President Joe Biden's two German shepherd dogs moved into the White House in January 2021, restoring the long-established tradition of having a presidential pet in the White House. Donald Trump was the first United States president in over 100 years that doesn't have a pet while in office. To celebrate the return of Pets in Chief, let's take a look back at some of the most well-known furry friends of our US presidents.
Joe Biden's Dog
The First Shelter Dog of the White House
Major is the first shelter dog living in the White House. Biden adopted him from the shelter in 2018. Major had his own "indoguration" event before the presidential inauguration and raised over $200,000 for Delaware Humane Association, Major's former rescue home.
Joe Biden's other German shepherd, Champ, was named by his granddaughters. Biden promised his wife Jill Biden he would get a dog after the 2008 presidential election if Barack Obama won. He purchased Champ as a puppy from a breeder in 2008. Now Champ is aged 12 and Major is 3.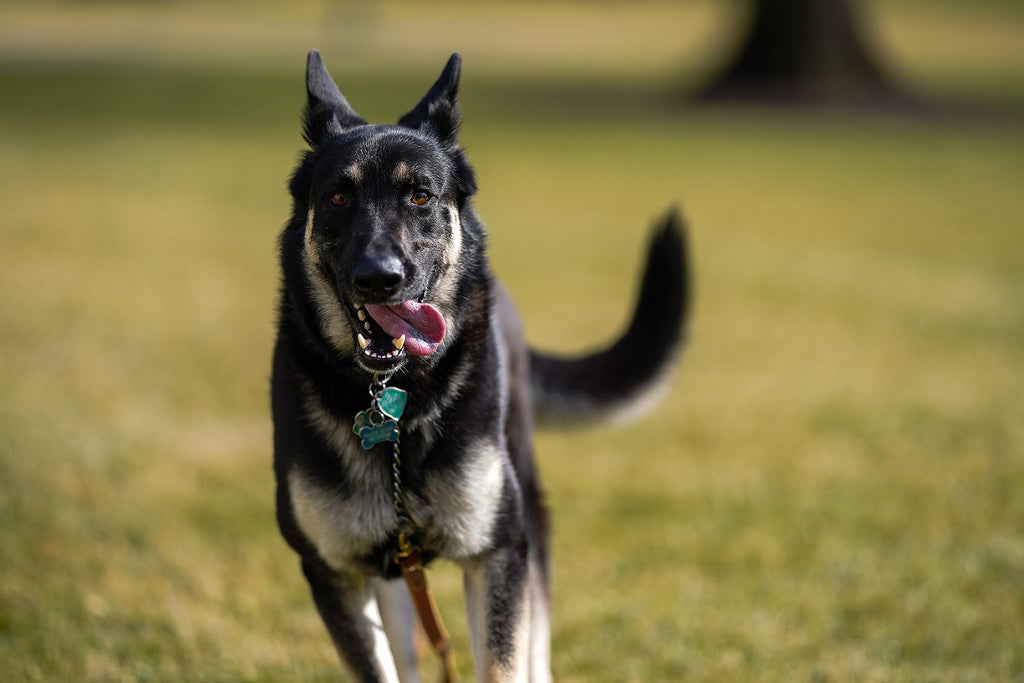 Major running on the White House lawn in January 2021. Photograph by Adam Schultz.
Barack Obama's Dogs
Love for Daughters
"I love you both more than you can imagine," Obama told his daughters, Sasha and Malia. "You have earned the puppy that is coming with us." Barack Obama promised his daughters a puppy and accepted Bo as a gift from his friend Senator Ted Kennedy. Bo is a male Portuguese Water Dog chosen because of Malia Obama's allergies, needing a hypoallergenic breed.
 
In 2013, a female dog of the same breed joined the former First Family of the United States. This younger sister of Bo is named Sunny.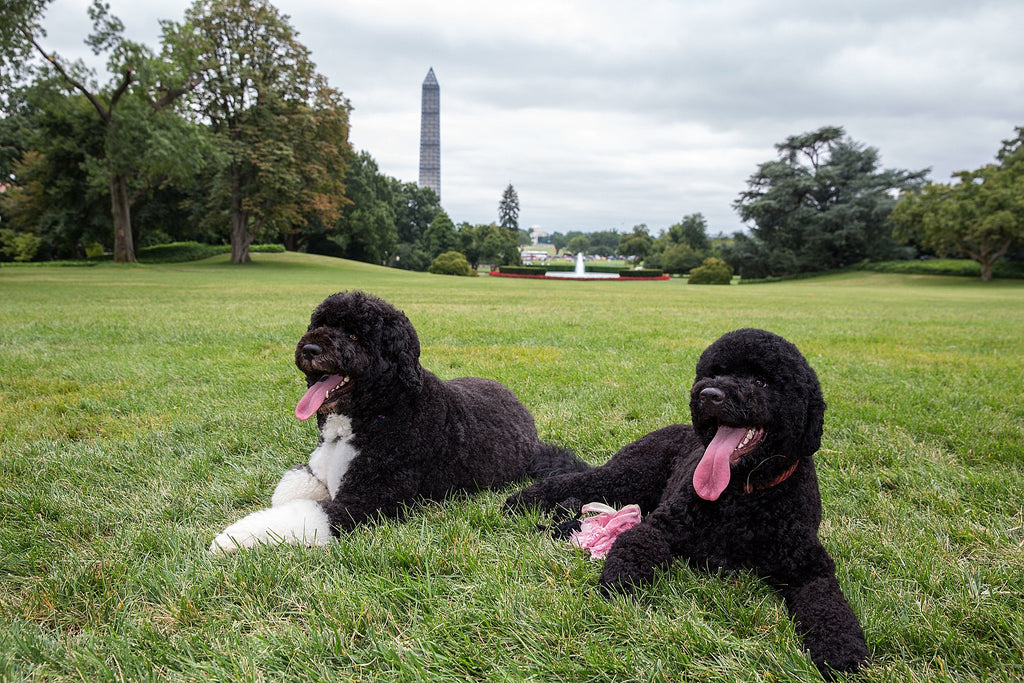 Bo, left, and Sunny, the Obama family dogs, on the South Lawn of the White House, Aug. 19, 2013. Official White House Photo by Pete Souza.
George W. Bush
Gifts to His Wife
Over the course of president, George W. Bush had three dogs and a cat at the White House. Spot Fetcher, a female English Springer Spaniel dog, was the only pet that lived in the White House during two non-consecutive terms. She was the daughter of Millie, President George H. W. Bush's dog.
Miss Beazley and Barney were the beloved Scottish Terriers of George W. Bush and Mrs. Laura Bush. Barney joined the Bush family after the Presidential election in 2000, as a gift from President Bush to Mrs. Bush. Miss Beazley was a birthday gift from President Bush to Mrs. Bush in 2004, and arrived at the White House on January 6, 2005.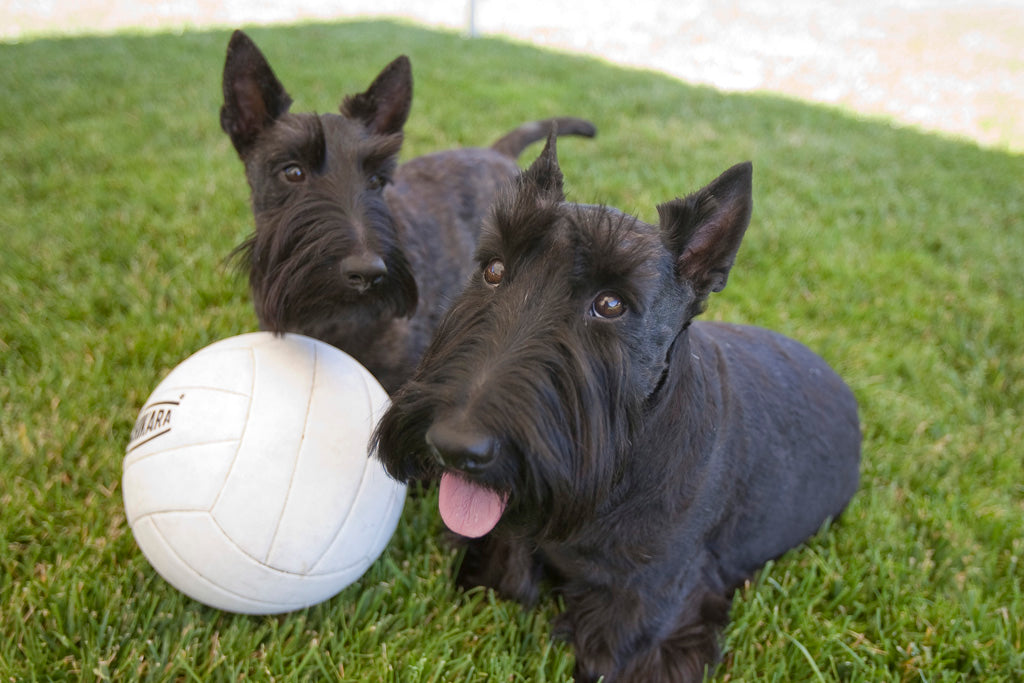 Barney and Miss Beazley took a break from playing with their volleyball on the South Lawn of the White House, June 13, 2006. Photo from George W. Bush Presidential Library and Museum.
The Bushes acquired a female American Shorthair cat, India, in 1992. She was a black cat who lived with the Bush family for almost 20 years.
Bill Clinton's Dog and Cat
The Two Pets That Didn't Get Along
While Bill Clinton was President of the US, he kept two pets. Socks was an adopted stray cat, who was a black-and-white domestic short-haired male. Socks the cat wasn't a fan of the new dog, Buddy, a male chocolate-colored Labrador Retriever, who joined the Clinton family in 1997. According to Hillary Clinton, Socks "despised Buddy from first sight, instantly and forever."
 
"If they were left together, Socks would be found hissing, fluffed up and with back arched, while Buddy tried to chase him under the sofa." Hillary Clinton wrote.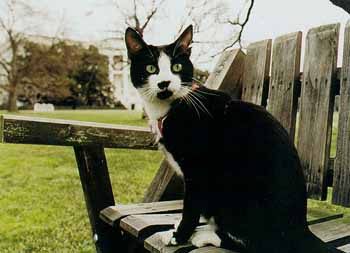 Socks the cat, the pet of U.S. President Bill Clinton's family, photographed on the South Lawn of the White House.
Theodore Roosevelt's Pets
His White House was a Zoo!
Theodore Roosevelt was the president that had the most pets. His White House was pretty much like a real zoo: horses, dogs, cats, snakes, pigs, a rabbit, birds, rats and wild animals including bears, a lion, a wildcat, a coyote, a zebra, a hyena, a lizard and a raccoon.
 
The Roosevelt family was a real dog lover. They had eight dogs over the course in the White House. Pete, a male Bull Terrier dog, was one of the most famous pets in Roosevelt's zoo. He was best known for biting a White House staff as well as ripping the pants of a French Ambassador.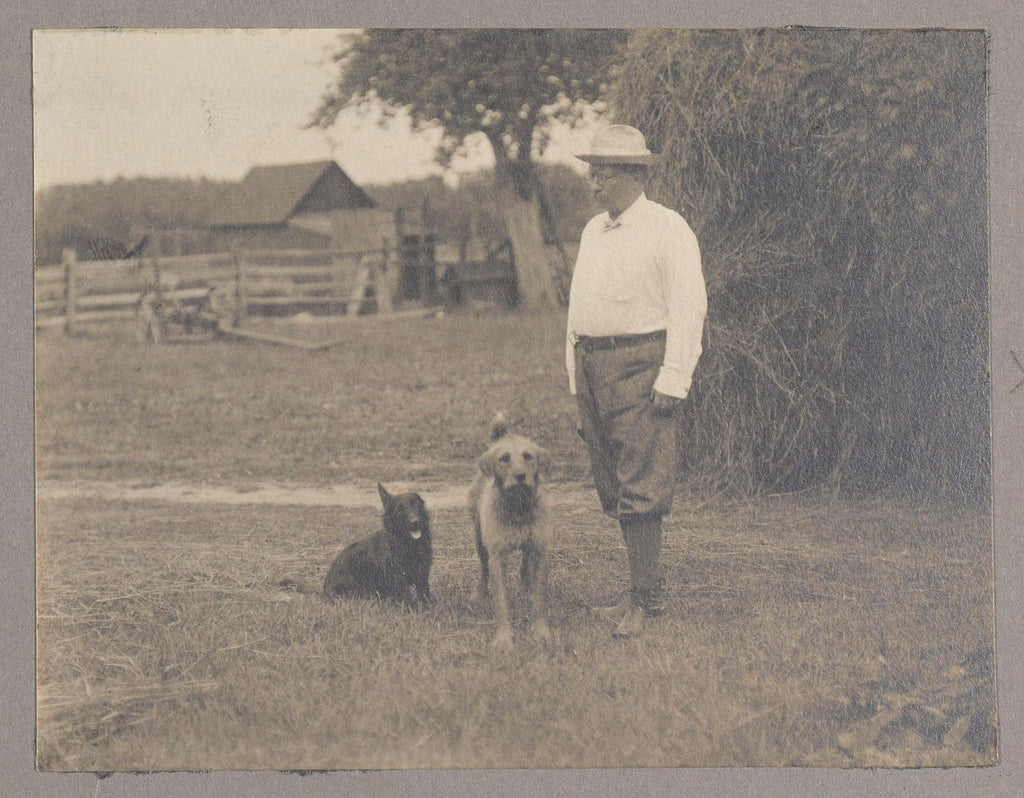 Theodore Roosevelt standing with two dogs next to haystack. Source from Library of Congress.